Upcoming Service

On the Sunday before Thanksgiving, Rev. Gy will share her thoughts on giving thanks. We will also kick off our annual collection for the Unitarian Universalist Service Committee, an organization that promotes human rights and social justice around the world.
Recent News
Web-based Giving Available Have you ever come to church on a Generosity Sunday with no cash or checks in your pocket? We don't want people to miss out on the chance to give when the spirit moves them, so we have added more options for donating to UUCC. If you notice on the website the new "Donate" button ...
Our Stories
I was raised by liberal Catholics in rural Wisconsin. I quickly seized the notion that all authority, including religious, should be challenged. We moved to a large city in central California, and I quickly took my rebellious nature too far, falling into alcoholism and addiction. At the young age of twenty-five, I realized some life-changing decisions needed to be made. A twelve-step program aided in these changes and helped open the door to a reentry of spirituality into my life. However, it would still be a couple years before I would attend anything like an organized church.

Three years into my sobriety, I met the woman who would be my wife. She, too, had a desire to grow her personal spirituality. A close friend invited us to a church that prided itself on mainstreaming meditation and diverse religious education. Every service began with 20 minutes of meditation followed by readings from such varied religions as Judaism and Zoroastrianism. This would be our church until it over-extended its hand into our pockets.

Nikki and I soon married and found ourselves blessed with a little girl, Chloe. We wanted to settle closer to our extended family and, Nikki being from Battle Creek, we eventually called Portage our home. Soon after moving to Portage, and after a hiatus from organized religion, I felt the urge to find a spiritual community. I searched the internet for a liberal church that would help me foster that outward life and I found UUCC. This church delivered as promised, giving me numerous opportunities to engage myself, the church and the community. I now serve as Vice President of the Board of Trustees and look forward to my contribution to the advancements to come.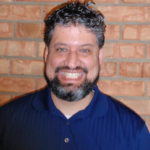 Phil