Upcoming Service

Rev. Gy will share more of her thoughts on this month's theme: Welcoming.
Recent News
New "Apple Corps" classes Marsha Laya will again be offering iPad/iPhone lessons on Mondays, July 8-September 30 from 3:30 – 5:30. The cost will be $10.00 each session. For more information, see the detailed description on the Special Events page. 
Web-based Giving Available Have you ever come to church on a Generosity Sunday with no cash or checks in your pocket? We don't want people to miss out on the chance to give when the spirit moves them, so we have added more options for donating to UUCC. If you notice on the website the new "Donate" button ...
Our Stories
My husband and I first started attending UUCC in the late summer of 2011. I'd retired from UU parish ministry, so it seemed natural to return to our UU roots. I personally love small churches due to their friendly nature and family feel and UUCC definitely fit the bill.

In the years we've been here, we've seen a few ministers come and go but what remains steadfast is a solid core group of people who have boundless faith in who we are and what we believe in. It is to this community I return again and again to fire up my spirit to help make my world a better place and to help live out my own
personal statement: "To bring beauty into the world."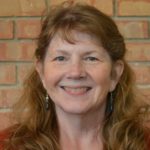 Kayle