This Week's Service

 We're all connected: an interdependent whole. Therefore, says Unitarian Universalist Association President, Rev. Susan Frederick-Gray, "covenant is our religious response to our fundamental interdependence." We make promises about how to be together, and how to be in the world. We also fall short of honoring those promises, inviting us … read more.
Our People
UUCC is at the intersection of all the things we value most. At UUCC, we have formed close relationships with people who share our values about equity and social justice. UUCC works with ISAAC (Interfaith Strategy for Advocacy and Action in the Community) to address the causes and impact of racial and economic disparities in our community. Through this collective impact model, we have been effective in making policy and practice changes at the local level.

We are deeply committed to spiritual development and exploration. The weekly Sunday services, guided wellness meditations, and religious education for our children provide support and inspiration for our family to develop meaningful spiritual practices. Our children have learned to articulate what they believe and how to make choices that are aligned with their values.

We also aspire to live in a way that reduces our carbon footprint so we can help protect the earth's natural resources for generations to come. We are members of the Sustainability Support Group at UUCC. In this group, we share information and hold each other accountable for making personal changes and advocating for systemic changes.

UUCC has been our spiritual home for over 20 years as we have gone through many life stages, from early adulthood serving as UUCC youth group advisors to our life now as parents of teens who are transitioning to college. Through each stage, we have been fully supported by our church family and cannot imagine our lives without UUCC.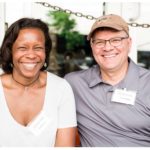 Regena and Eric