This Week's Service

Curiosity is an underrated habit, a virtue even.  And its practice opens doors to a greater depth of personhood and of relationships, even across the many cultural polarities that divide us.

Please read through our Covid-19 Gathering Guidelines before joining us.

If you prefer, you can … read more.
Our People
Catholic nuns don't question their faith. So, what is a person like me to do when doubt rears its insistent head. If you ask your spiritual advisor, which I did, you are told to pray because the devil is tempting you. The problem was, I had stopped believing in the devil.

So what was I to do? I decided to join an interfaith discussion group, telling my superiors that the Catholic Faith needed to be represented at these sessions. Secretly, after years of hearing what the Catholic Church told me, I decided to see how the other half lived, just in case I had missed something. Lucky for me, that group of the faithful from other denominations included a couple who belonged to the Unitarian Universalists Church. Never heard of it? Neither had I back in 1969. This couple shared their faith with the rest of us. I was stunned!

What? You mean you can build your own theology? There are no dogmas? Wow!
What? You mean you can freely (and responsibly) seek the truth and what is meaningful to you in your life? You can question and explore and doubt? No judgement or blame? Wow!
What? You mean I will no longer be a square peg in a round hole? Where do I sign up?

And so began the rest of my life. The journey has not been easy. I will have to admit that it was much easier to be told what to believe than to doubt, wonder, examine, question, re-examine and continually challenge my own thinking and assumptions. But the journey has been absolutely rewarding and refreshing. I've learned to be open to new thoughts and ideas. I've learned to feel comfortable with not knowing the answers and loving the fact that life is a mystery. As a result, I've opened myself to meeting some wonderful people on this strange and glorious journey. The Unitarian Universalist Faith is where I've become grounded. It's home where my family of other UU members support each other as we build our personal and meaningful theology. It's where I belong.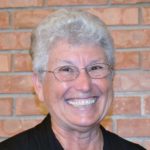 Marsha