Women's Book Group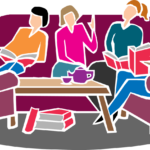 The Women's Book Group is open to all UUCC women. At the beginning of each church year, participants offer up their favorite reads, and books are chosen for the coming year along with the schedule, discussion leaders, and hostesses. *Meetings are usually held at the church on the second Friday of the month September through May, preceded by lunch together at a nearby restaurant.
While the Women's Book Group is on hiatus, consider picking up one of the titles on this Climate Change Reading List compiled by the Kalamazoo Climate Crisis Coalition for your summer reading.

• Climate Change from the Streets
by Michael Méndez (2020).
• Doughnut Economics: Seven Ways to Think Like a 21st Century Economist
by Kate Raworth (2017)
• The New Climate War: The Fight to Take Back Our Planet
by Michael Mann (2021).
• Climate Courage
by Andreas Karelas (2020)
• This Is an Uprising
by Mark and Paul Engler (2016).
• Our Final Warning: Six Degree of Climate Emergency
by Mark Lynas (2020).
• A Climate Carol: And Other Cli-Fi Short Stories
by Richard Friedman (2018).
• The Right to Be Cold
by Sheila Watt-Cloutier (2018).
• Winning the Green New Deal: How We Must, How We Can
by Varshini Prakash & Guido Girgenti (2020).
• The Story of More
by Hope Jahren (2020).
• Carbon Criminals Climate Crimes
by Ron Kramer (2020).
• An American Marriage
by Tayari Jones (2018).
• Parable of the Sower
by Octavia Butler. (1993).
• We Are the Weather: Saving the Planet Begins at Breakfast
by Jonathan Safran Foer (2019).
• The Uninhabitable Earth: Life After Warming
by David Wallace-Wells (2019).
• Odds Against Tomorrow
by Nathaniel Rich. (2014).
• Learning to Die in the Anthropocene: Reflections on the End of a Civilization
by Roy Scranton (2015).
• Climate Justice
by Mary Robinson. (2018).
• Can We Price Carbon?
by Barry Rabe(2018).
• Zeitoun
by Dave Eggers. (2010).
• The Great Derangement
by Amitav Ghosh. (2016).
• Cool Cities: Urban Sovereignty and the Fix for Global Warming
by Benjamin R. Barber (2017).
• Nudge: Improving Decisions About Health, Wealth, and Happiness
by Richard Thaler (2009).
• Storming the Wall: Climate Change, Migration, and Homeland Security
by Todd Miller(2017)
• The Water Knife
by Paola Bacigalupi (2016).
• The Climate Swerve: Reflections on Mind, Hope, and Survival
by Robert Jay Lifton (2017).
• Tropic of Chaos
by Christian Parenti (2011).
• Climate Change and Natural Disasters
by Vinod Thomas (2017).
• Don't Even Think About It
by George Marshall (2015).
• This Changes Everything: Capitalism vs. The Climate
by Naomi Klein (2014).
*While the building is closed due to Covid-19, the Book Group will meet via Zoom. Please contact the office for more information.