Women's Book Group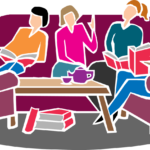 The Women's Book Group is open to all UUCC women. At the beginning of each church year, participants offer up their favorite reads, and books are chosen for the coming year along with the schedule, discussion leaders, and hostesses.  *Meetings are usually held at the church on the second Friday of the month September through May, preceded by lunch together at a nearby restaurant. 
The Women's Book Group selections for 2021-2022: 
Sep 10, 2021:  That Time of Year: A Minnesota Life (2020) by Garrison Keillor
October 8, 2021:  The Vanishing Half (2020) by Britt Bennett
Nov 12, 2021:   The Premonition: A Pandemic Story (2021) by Michael Lewis
Dec 10, 2021:   Perestroika in Paris: A Novel (2020) by Jane Smiley
Jan 14, 2022:   The Little Paris Bookshop (2013) by Nina George
Feb 11, 2022:  Caste: The Origins of Our Discontent (2020) by Isabel Wilkerson
Mar 11, 2022:  The Best We Could Do (2017) by Thi Bui, Kalamazoo Public Library's 2021 Community Read
Apr 8, 2022:   A Woman of No Importance: The Untold Story of the American Spy Who Helped Win World War II (2019) by Sonia Purnell
May 13, 2022:  Anxious People (2019) by Fredrik Backman
*Due to ongoing concerns about Covid-19, the Book Group will meet via Zoom until further notice. Please contact the office for more information.