Women's Book Group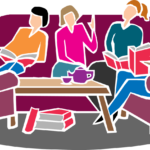 The Women's Book Group is open to UUCC members and friends who identify as women or feel most connected in women-specific spaces. At the beginning of each church year, participants offer up their favorite reads, and books are chosen for the coming year along with the schedule and discussion leaders.  Meetings are held via Zoom on the second Friday of the month September through May.  
The Women's Book Group selections for 2022-2023: 
Sep 9, 2022: (non-fiction) Unthinkable: Trauma, Truth, and The Trials of American Democracy (2022) by Jamie Raskin
Oct 14, 2022: (fiction) Mrs. Palfrey at the Claremont (1971) by Elizabeth Taylor
Nov 11, 2022: (non-fiction) Rising Out of Hatred: The Awakening of a Former White Nationalist (2018) by Eli Saslow
Dec 9, 2022: (fiction) The 100-Year-Old Man Who Climbed Out The Window and Disappeared (2012) by
Jonas Jonasson 
Jan 13, 2023: (non-fiction) Little Heathens: Hard Times and High Spirits on an Iowa Farm During the Depression (2007) by Mildred Armstrong Kalish 
Feb 10, 2023: (fiction) Black Bottom Saints (2020) by Alice Randall
Mar 10, 2023: Kalamazoo Public Library's Community Read: Think Again (2021) by Adam Grant.
Apr 14, 2023: (non-fiction) The Devil and Sherlock Holmes: Tales of Murder, Madness and Obsession (2010) by David Grann 
May 12, 2023: (fiction) Band of Sisters: The Women of Smith College Go To War (2021) by Lauren Willig