Service Projects
Individual Engagement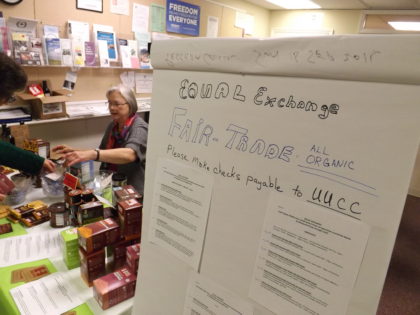 Individual members of UUCC participate actively with ISAAC, serving on task forces for Youth Violence & Drug Prevention, Early Childhood & Education and Anti-Racism. Members of UUCC attend the annual ISAAC banquet to celebrate the coalition's achievements and offer financial support, and the biannual Issues Convention that selects ISAAC's areas of focus for the next two-year period.
Individuals also use their purchasing power as a social justice tool, ordering coffee, tea, chocolate and other food items from Equal Exchange. This cooperative builds long-term trade partnerships that are economically just and environmentally sound, to foster mutually beneficial relationships between farmers and consumers and to demonstrate the contribution of worker cooperatives and fair trade to a more equitable, democratic and sustainable world. UUCC adds no mark-up to Equal Exchange prices.
Social Justice Team
Open to any interested member or friend of UUCC, the Social Justice Team generally meets at the church on the third Sunday of the month following the Sunday service and coffee time. The committee chooses several issues for focused attention each year, such as climate change, violence against women or LGBTQ rights. Activities may include a Sunday service, forum to learn from persons directly affected by a particular issue, experiential workshop, public advocacy on an issue, special collection for a local organization or service project.